Oats Egg Omelette Recipe for Toddlers and Kids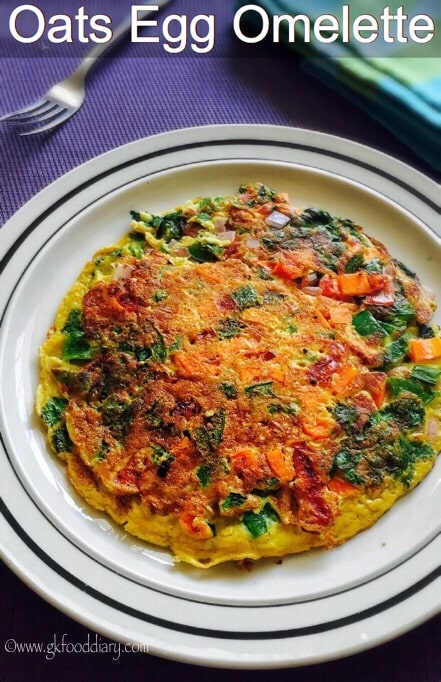 Eggs - 2
Oats- ¼ cup
Milk -1/4 cup
Turmeric Powder -1/4 Tsp
Pepper Powder -1/4 tsp
Onion - 2 tbsp (finely chopped)
Carrot - 2 tbsp (finely chopped)
Capsicum - 2 tbsp (finely chopped)
Tomato - 2 tbsp (de-seeded and chopped)
Coriander leaves - 1 tbsp chopped
Salt - as needed
Oil/Ghee/ Butter - 2 Tsp
Keep all the ingredients ready. Wash and finely chop onions, tomatoes, carrots, coriander leaves, and capsicum. Powder the oats using a blender and keep it ready. in a mixing bowl, add powdered oats, milk, turmeric powder, pepper powder, and salt
Then Crack and open the eggs. Add into the mixing bowl. Now beat the eggs along with other ingredients until frothy and fluffy with a fork or hand whisk.
Heat a pan or tawa with butter/ghee/oil and pour the egg oats mixture to it. Spread it like a circle with the help of a spoon. Then arrange all the veggies and press it with a spoon. Sprinkle pepper powder on the top. Cook it in low, medium flame for 5 minutes.
Once the omelet is cooked on one side, turn the other side. Cook it further for two minutes. Switch it off once done and serve.