Rava Ladoo Recipe for Toddlers and Kids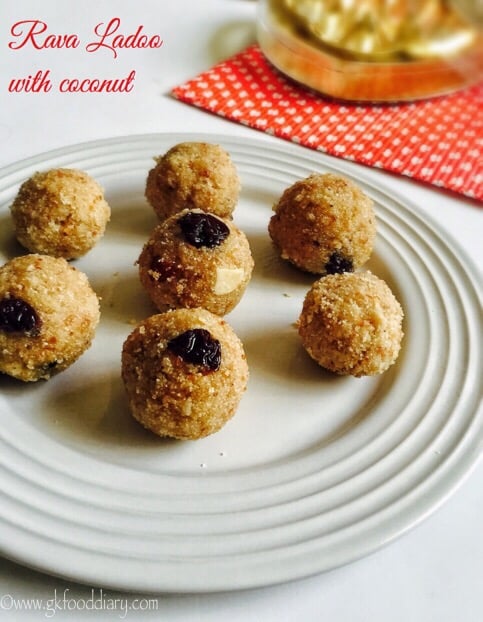 Sooji/Fine Rava- 1 cup
Sugar - 1 cup
Cardamom - 2
Cashews - 1 tbsp
Raisins - 1 tbsp
Grated Coconut - ¼ cup
Ghee - ¼ cup
Hot Water -1/2 cup
Firstly, add sugar and cardamom to the blender. Grind it to a smooth powder.
Measure and keep all the other ingredients ready. Melt ghee in a thick bottomed pan.
Add cashews and raisins. Fry until the cashews turn golden brown. Then add grated coconut and add roast it until its light brown.
Now add 1 cup of Rava and roast in low flame for 7-10 minutes until nice nutty aroma comes and rava turns slightly brown.
Then add powdered sugar and mix everything well together for a minute. Switch off the flame once done.
Now add ¼ cup of hot water to the rava mix and mix well. Add more water if the mixture remains crumble.
Start making ladoos with your hand. Add 2 -3 tbsp of hot water if the mixture become crumble while making ladoos. Store it in an air tight container once done.
Serving size:
12-15 small ladoos