Paneer Bhurji Recipe for Toddlers and Kids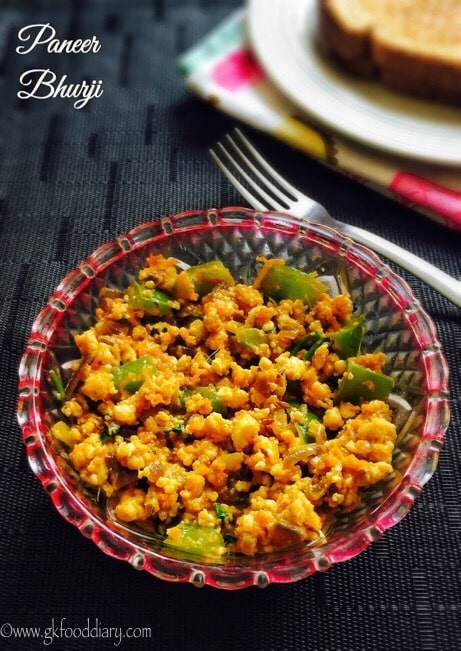 Fresh Paneer/Cottage Cheese- 1 cup (crumbled)
Onions - 1 small sized
Ginger - 1 tbsp (finely chopped)
Carrot - 1 small grated (optional)
Capsicum - 3 tsp chopped finely
Red chili powder - ¼ tsp
Coriander Powder - ½ tsp
Garam masala powder - ⅛ tsp
Turmeric powder - ⅛ tsp
Coriander leaves - 1 tbsp chopped
Salt - as needed
Oil/Butter/Ghee - 2 tsp
Cumin Seeds - ½ tsp
Keep all the ingredients ready. Chop onions, ginger, coriander leaves and capsicum finely. Grate carrots and Crumble paneer. Set aside.
Heat 2 tsp of oil in a pan, add cumin seeds. Saute it until it cracks.Then add onions along with chopped ginger.
Fry until onion turns golden brown. Now add capsicum pieces, grated carrots, red chilli powder, turmeric powder, coriander powder, garam masala and salt.
Toss it well for few minutes. Then add crumbled paneer.
Mix everything together for two to three minutes. Switch off the flame once done.