Mint Chutney / Pudhina Chutney (South Indian Style) | Side dishforIdliDosa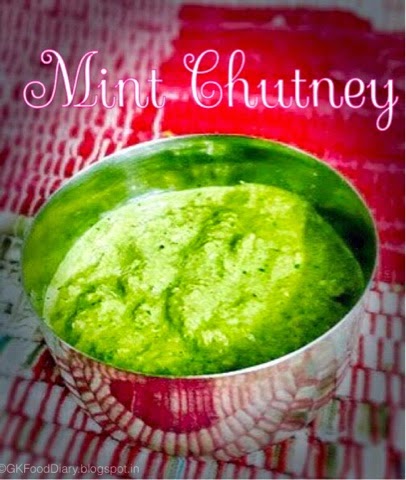 Fresh mint leaves - 1 small bunch
Coconut scrapped - ¼ cup
Green chillies - 2 to 3
Turmeric powder - ¼ tsp
Roasted Gram dal - 1 tbsp
Oil - 2 tsp
Salt - as required
Take the mint leaves from the stalks and wash it well.
Heat a pan with oil and add the mint leaves. Saute the leaves initial it shrinks and switch off the flame.
Now grind the mint leaves along with green chillies, coconut, gram dal, turmeric powder and salt. Once it blends well, transfer it to a serving bowl.
Recipe by
GKFoodDiary - Homemade Indian Baby Food Recipes
at https://gkfooddiary.com/mint-chutney-pudhina-chutney/