Apple Juice Recipe for Babies,Toddlers and Kids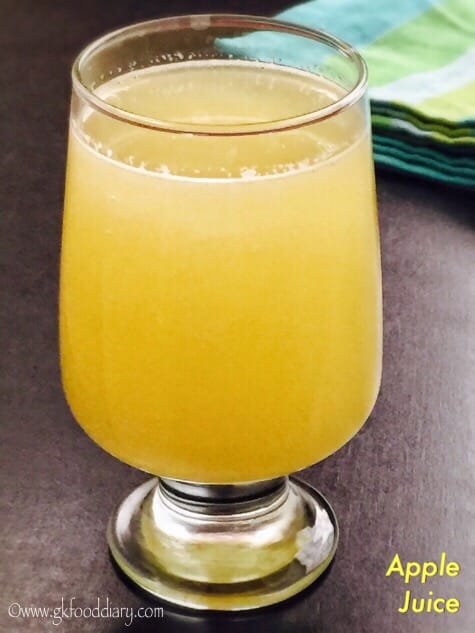 For Apple Sauce:
Apples- 2 medium sized
Water - ½ cup or as required
Sugar - 2 tbsp (optional)
For Apple Juice:
Apple Sauce - 2 tbsp
Water - 1 cup
Wash the apples in running water thoroughly. Then peel the skin off with a peeler.
Then chop the apples into cubes. Place the chopped apple cubes in a saucepan along with sugar (if using ) and water till it immersed level. Boil the apples for 5-7 minutes or until its soft and switch off the flame.
Transfer the boiled apple cubes to the blender .Blend it until smooth. This is the apple sauce. You can store this in refrigerator or freezer and use whenever required.
To make juice, take 2 tbsp of apple sauce and add 1 cup of water, Mix well and pour it in glasses and serve!
Recipe by
GKFoodDiary - Homemade Indian Baby Food Recipes
at https://gkfooddiary.com/apple-juice-recipe-babies-toddlers-kids/