Black Tea with Milk Recipe | How to Make Black Tea with Milk using carafe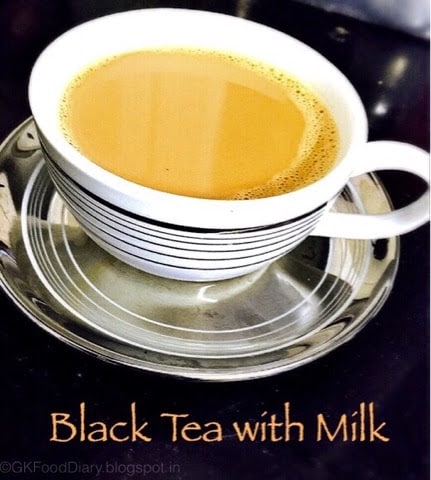 Water - 1 cup
Milk - 1 cup
Loose Black tea leafs - 2 to 3 tsp or adjust as per preference
Sugar - 2 tsp
Take the carafe, loose black tea leafs and water. Boil the required milk separately in a sauce pan and keep it warm. I personally prefer warm milk for my cup of tea rather than hot.
Pour a cup of water in carafe and switch on the flame. Boil the water over flame until it reaches rolling boil. Then add the required black tea leafs to the carafe and close the lid of the carafe immediately & switch of the flame. I have a borosil carafe with strainer in lid which can be used directly on the flame.
Let the tea steep for at least 3 to 5 minutes. I like my tea strong and hence I kept it for five minutes. Please check the steeping time in the tea pack as it may varies from brand to brand. After the time is up for steeping, open the lid of the carafe and add the milk little by little. Mix it well.
Then strain the tea in a cup and add required sugar to sweeten your tea.Drink warm. My carafe has strainer in the lid so I didn't use a separate strainer to strain the tea. Use a separate strainer if your carafe doesn't have the option.
Recipe by
GKFoodDiary - Homemade Indian Baby Food Recipes
at https://gkfooddiary.com/black-tea-with-milk-recipe-how-to-make/