Sooji Porridge Recipe for babies | Sooji Kheer for Babies | Baby Foods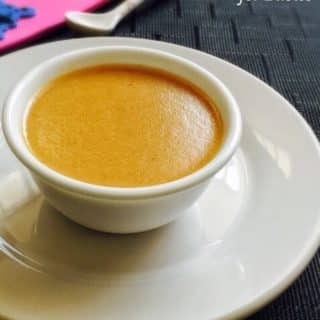 Roasted fine rava/sooji - 1.5 tbsp
Powdered jaggery - 1.5 tbsp (optional)
Homemade Ghee - ½ tsp
Hot Water - ½ cup
Cows milk - 1 cup ( don't add for babies under one year )
Sterilize the bowls and spoons used for feeding your baby in a vessel with hot water for five minutes and keep it immersed in the same vessel until use.
Boil cows milk (if using) in a sauce pan and keep it ready. If using jaggery with impurities, Add ¼ cup of water to the powdered jaggery and boil in a separate vessel until it melts completely. Then filter out the jaggery water using a strainer in the sauce pan
Take 2 tbsp of roasted sooji in a sauce pan add required amount of hot water and ghee to the sooji and mix everything slowly with a whisk. Make sure that there are no lumps formed. . Cook the sooji in medium flame until the rava cooked completely.
Stir it continuously while cooking otherwise porridge may stick to the vessel. Then add powdered organic jaggery/filtered jaggery water to the cooked sooji. Cook it further for 3 minutes or until its thick and switch off the flame once done.The porridge becomes thick after cooling down. So switch off the flame accordingly.
Once the porridge/kheer is warm, Add a cup of Warm boiled cow's milk/formula milk/breast milk to the cooked sooji. (Skip adding milk if you are preparing this porridge for a baby under one year ).
Recipe by
GKFoodDiary - Homemade Indian Baby Food Recipes
at https://gkfooddiary.com/homemade-sooji-porridge-recipe/