Thinai Arisi Puttu | Thinai Arisi Vella Puttu Recipe | Foxtail milletjaggery Puttu |Breakfast Recipes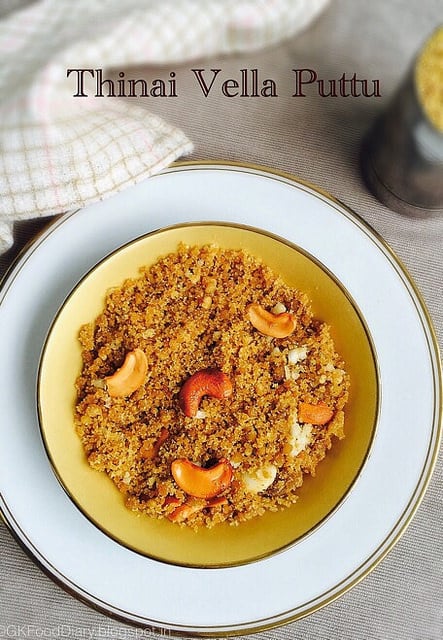 Thinai / foxtail millet - ½ cup
Jaggery - ¼ cup
Salt - a pinch
Coconut grated - 2 tbsp
Water - as required
Cashews - 1 tsp
Ghee - 1 tsp
Wash the Thinai rice well in water and dry it under sun for 30 minutes. (This step is optional you can directly start dry roasting the thinai).Then heat a pan and dry roast the thinai for 5 minutes in low flame or until hot to touch. Don't burn it while roasting. Let it cool down and then grind it in a mixer to a fine powder. Set aside.
Take the ground thinai flour in a wide plate and sprinkle little warm water on it and wet the entire flour. Keep mixing with water until you could able to make a fist when hold together and should crumble and fall when left. This is the correct consistency for puttu.
Transfer the mixture to a muslin cloth and bundle it loose covering all corners of the cloth. Place it on a Idli steamer plate and steam it for 10-12 minutes with a cup of water. Once steamed, cool it down and break the crumbles formed with your hands. Set this aside.
Heat jaggery in a sauce pan with ¼ cup of water until it dissolves completely. Strain the jaggery water to remove impurities. Then start reheating the jaggery water in a pan with medium flame.
Heat the jaggery until pagu consistency is reached i.e until the jaggery becomes thicks and non sticky. Other way to check the consistency is to drop jaggery in water placed in a bowl, it should not get dissolved and you should be able to form a hard ball.
Once this  correct consistency is reached, keep the flame low and add steamed thinai flour and mix it till becomes dry and jaggery is absorbed. Then add scrapped coconut and give a quick stir.
Heat a tadka pan with ghee and add cashews. Fry the cashews until golden brown and transfer the fried cashews to the puttu. Mix well and switch off the flame.
Recipe by
GKFoodDiary - Homemade Indian Baby Food Recipes
at https://gkfooddiary.com/thinai-arisi-vella_puttu/