Mushroom Roast Recipe | Mushroom Fry | Mushroom Recipes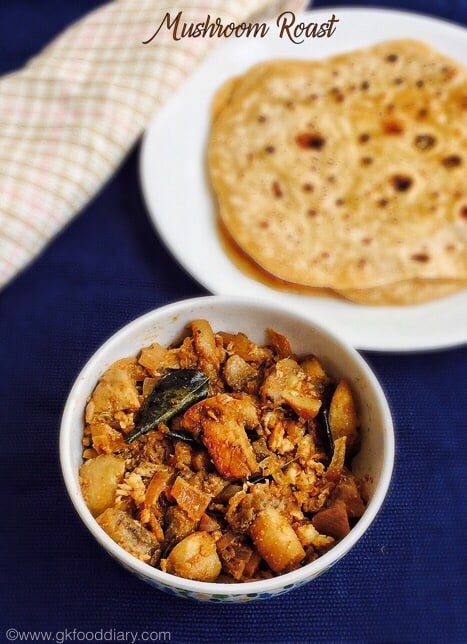 Mushrooms - 200 gms
Big onion - 1 medium sized
Ginger garlic paste - 1 tsp (from ¼ inch ginger piece and 3 garlic cloves)
Grated Coconut - 1 tbsp (optional)
Salt - as required
Thick curd - 3 tbsp
Red chilli Powder - ½ tsp
Coriander Powder - 1 tsp
Garam masala powder - ½ tsp
Oil - 1 tbsp
Cumin seeds - 1 tsp
Fennel seeds - 1 tsp
Wash and cut each mushroom into 2 or 3 slices depending upon its size. Keep them ready. In a wide mixing bowl, take the ingredients given under 'to marinate' and mix well with a whisk. Then coat the mushrooms with it and leave it for marination for 20 minutes. Mushroom will leave some amount of water during marination.
Heat oil in a pan and add cumming seeds and fennel seeds. Saute them until cumin seeds cracks. Then add curry leaves and fry for a minute. Add sliced big onions along with ginger garlic paste now and fry them well.
Once the onions becomes transparent, add the marinated mushroom pieces and mix it well. They will start to sweat some amount of water. Cook it in low medium flame until the water dry up completely for 5 to 7 minutes.
Once the mushrooms are completely cooked, add the grated cocount in and mix it slowly. Fry it for another two minutes and switch off the flame. Garnish with coriander leaves if you prefer.
Recipe by
GKFoodDiary - Homemade Indian Baby Food Recipes
at https://gkfooddiary.com/mushroom-roast-recipe-mushroom-fry/