Watery Rice Gruel Recipe for Babies | Chawal Ka Pani | Baby Food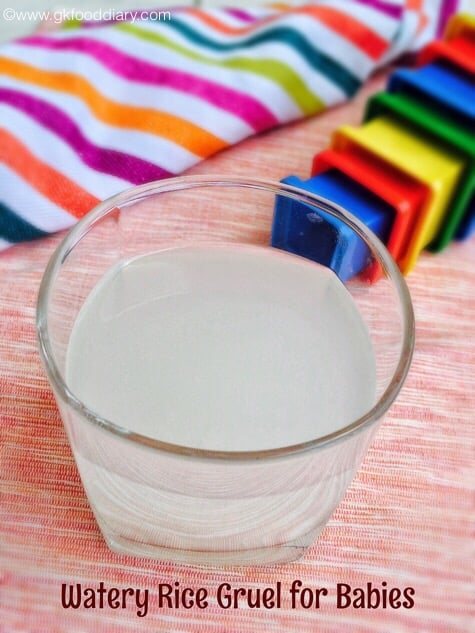 Parboiled rice - 2 tbsp
Water - 2.5 cups
Sterilise the bowls and spoons used for feeding your baby in a vessel with hot water for five minutes and keep it immersed in the same vessel until use.
Take 2 tbsp of rice and wash it well. Add the washed rice to a cooking pot or sauce pan and add 2.5 cups of water. Cook the rice in medium flame with occasional stirring.
Cook the rice until it gets completely cooked and soft. It may take 10 to 15 minutes. Once the rice is completely cooked, switch off the flame. Let it cool down for some time. Then Mash the rice a bit with a laddle n stain through a strainer to get a thin watery rice soup.
Recipe by
GKFoodDiary - Homemade Indian Baby Food Recipes
at https://gkfooddiary.com/watery-rice-gruel-recipe-for-babies/