Mashed Vegetables for Babies | How to introduce mashed foods to babies|Baby Food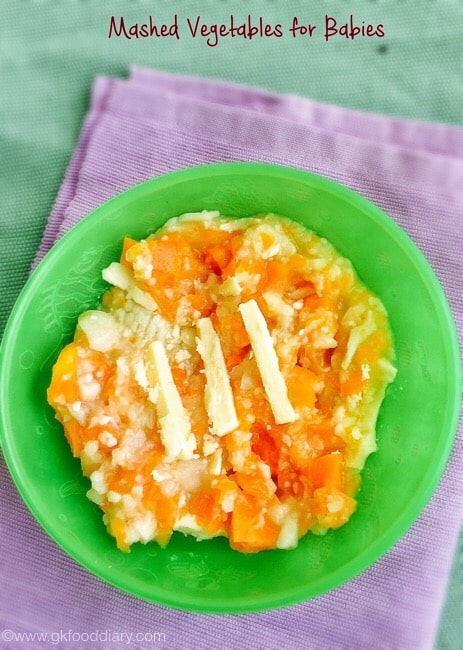 Carrot - 1 medium sized
Cauliflower or Broccoli - 5 florets
Potato - 1 medium sized
Grated cheese - 1 tbsp
Water - as needed
Sterilise the bowls and spoons used for feeding your baby in a vessel with hot water for five minutes and keep it immersed in the same vessel until use.
Wash and soak the cauliflower in hot water for 5 minutes to get rid of the worms if any. Wash carrot and potato in running water well. Then peel the skin off from carrot and potato with a peeler. Then chop them into equal size small cubes. Steam the chopped potato, cauliflower florets & carrot pieces in a steamer for 15 minutes. You can steam it with Idli steamer plate by adding a cup of water or pressure cook it with a cup of water for 2 whistles. For both steaming and blending i use
Philips Avent Combined Steamer and Blender
Once the carrot, cauliflower & potato are steamed, it will be soft and transparent. Mash it with a fork until well mashed. Mix grated cheese to the mashed vegetables.
Recipe by
GKFoodDiary - Homemade Indian Baby Food Recipes
at https://gkfooddiary.com/mashed-vegetables-for-babies/