Jaggery Poha for Babies & Toddlers | Baby Food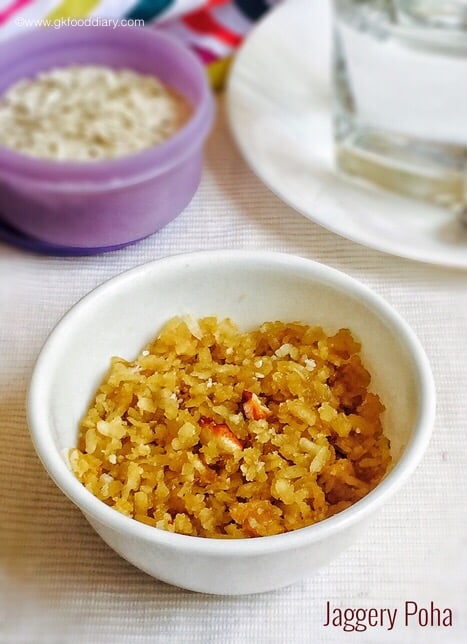 Aval/Poha - ½ cup
Jaggery - ¼ cup+1 tbsp
cashews - 2 to 3 (optional)
Coconut - 1 tsp (optional)
Ghee - 1 Tsp
Measure jaggery and poha. Keep it ready. Rinse poha and soak it in water for 5 minutes or until it becomes soft. Soaking time depends on the poha variety.
Add jaggery in a pan and add water till it immersed level. Heat a pan and melt it. Switch off the flame once bubbles start to appear and jaggery syrup is little thick.
Strain the jaggery water through a strainer in order to remove impurities. Now in the same pan add jaggery syrup along with soaked poha.
Mix the poha well with jaggery until it's coated evenly. Now add grated coconut, ghee fried cashews (if using). Give a quick stir and switch off the flame.