Easy Banana Pancakes Recipe with eggs for Babies & Kids | Baby Food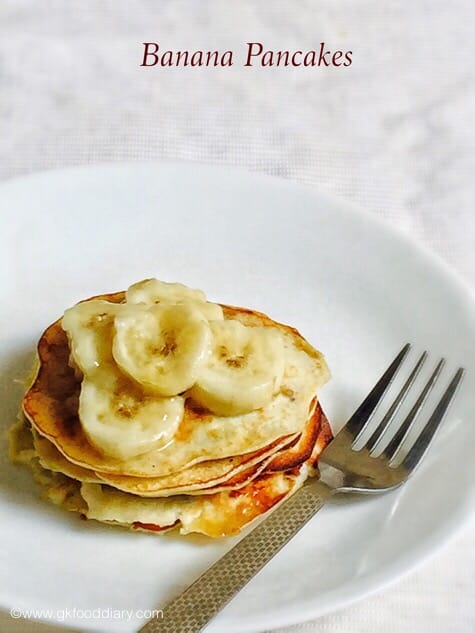 Banana - 1 big sized or 2 small ones
Eggs - 2 small ones
Oil/butter - for making pancakes
Optional ingredients for Toddlers:
Grated coconut - 1 tbsp
Sugar - 1 tbsp
Chopped nuts - 2 tsp
Honey - 1 tbsp (for topping)
Sterilize the bowls and spoons used for feeding your baby in a vessel with hot water for five minutes and keep it immersed in the same vessel until use.
Take banana & eggs. Mash the bananas well with your hand or fork. Beat the eggs well along with bananas using a whisk to a smooth mixture. Keep it ready.
Heat a tawa or iron skillet, add a small laddle of pancake mix to it and spread it to form a thin circles. Don't spread too much. Sprinkle oil or butter. Cook until brown on one side for five minutes and flip the pancakes carefully. Cook for a minute and remove from tawa. Repeat the same process for the remaining mix.
Recipe by
GKFoodDiary - Homemade Indian Baby Food Recipes
at https://gkfooddiary.com/banana-pancakes-for-baby/