Beetroot Dates Halwa for Babies & Toddlers | Baby Food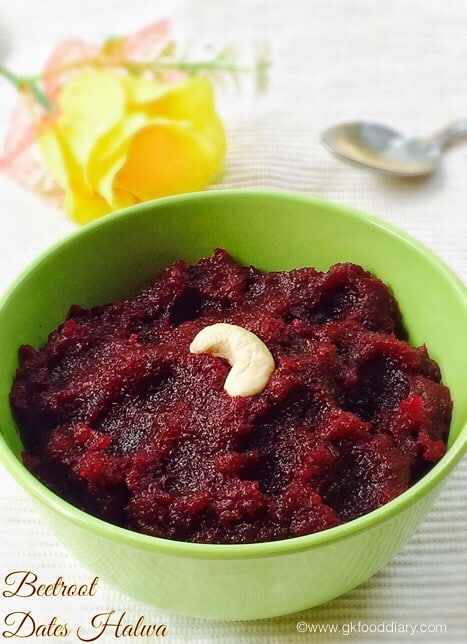 Beetroot - 1 medium sized
Dates - 10 to 12 nos
Homemade Ghee - 2 tsp
Water - as needed
Sterilize the bowls and spoons used for feeding your baby in a vessel with hot water for five minutes and keep it immersed in the same vessel until use.
Keep all the ingredients ready. Wash and peel the beetroot with a peeler. Chop them into cubes.
Steam or pressure cook the beetroots using a steamer or pressure cooker with required water. In the meantime, remove the seeds from dates. Take the dates in a vessel and cover cook with water till it immersed level. Cook it for 5 minutes until it becomes soft.
Once the beetroots are cooked, grind them together with dates. For both steaming & blending i use
Philips Avent Combined Steamer and Blender
Heat ghee in a pan and add the beetroot dates puree to it. Mix well. Then cook it further for 5 to 10 minutes with occasional stirring. Switch off the flame when it becomes thick & the halwa leaves out of the pan.