Badam Ragi Green Gram Malt Recipe | Homemade Health Drink for Toddlers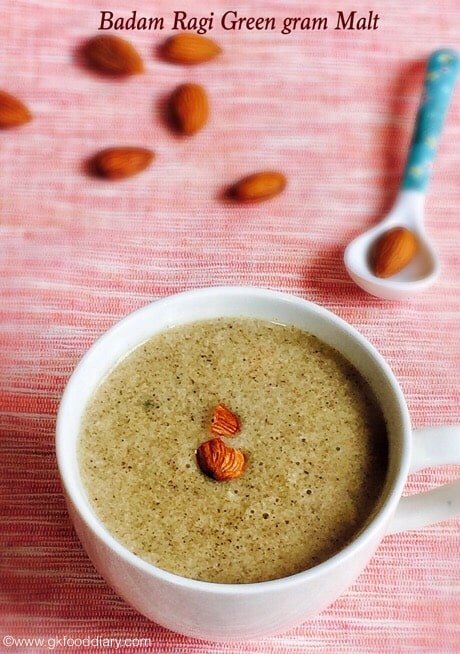 Malted Cereal Mix - 2 tbsp
Powdered Jaggery/ Palm Sugar/ Sugar - 1 tbsp
Almond/ Badam Powder - 1 tbsp or  whole almonds - 5 to 7
Water - ½ cup
Boiled milk - ¾ cup
Boil milk in a sauce pan and keep it ready.
Keep all the ingredients ready. Take 2 tbsp of malted cereal mix and add ½ cup of water to it.
Cook the malted cereal in medium flame for 3 minutes or until it gets cooked completely and becomes shiny. Stir it continuously while cooking otherwise it may stick to the vessel. In the meantime soak the almonds in hot water for 5 minutes and peel the skin off. Dry roast the peeled almonds for a minute and grind it to a fine powder using a blender.
Once the malted cereal is completely cooked, add almond powder. Mix well.Now Add ¾ cup of milk now to the cooked malted cereal mix. Boil it for 5 more minutes or until rolling boil. Remove from flame once done and cool it down. The malt drink becomes thick after cooling down. So switch off the flame accordingly.
Recipe by
GKFoodDiary - Homemade Indian Baby Food Recipes
at https://gkfooddiary.com/badam-ragi-green-gram-malt-for-toddlers/