Oats Pancakes Recipe for Toddlers and Kids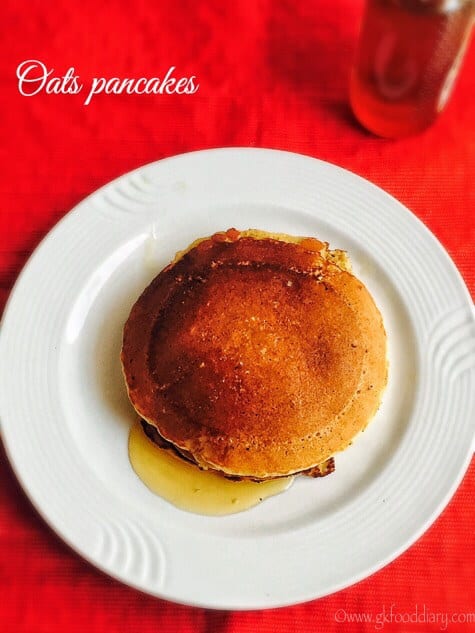 Oats - ½ cup
Whole wheat flour - ¼ cup
Brown sugar or Jaggery powder - 1 to 2 tbsp
Milk - ½ cup
Eggs - 1
Salt - a pinch
Baking soda - a pinch
Butter - 1 tbsp
Vanilla extract - ½ tsp
Measure oats, whole wheat flour, sugar/Jaggery. Keep it ready along with other ingredients. Dry roast the oats in a pan until nice aroma comes. Remove from the pan once done. Let it cool down.
Grind the dry roasted oats in a blender to a fine powder. Set aside.
In a bowl, add milk, eggs, butter, vannila extract, sugar/jaggery and mix well with a whisk.
In another bowl, add oats flour, whole wheat flour, salt and baking soda. Mix well. Now add the egg and milk mix to it. Mix well so that no lumps are formed. The batter should be like regular dosa batter consistency neither too thick nor runny. Set aside.
Heat a pan or tawa, add a laddle of batter to it and spread it to form a circle. Don't spread too much. Cook until brown on one side for five minutes and flip the pancake. Cook for a minute and remove from the pan. Repeat the same process for the remaining batter.