Avocado Sandwich Recipe for Toddlers and Kids | Guacamole Sandwich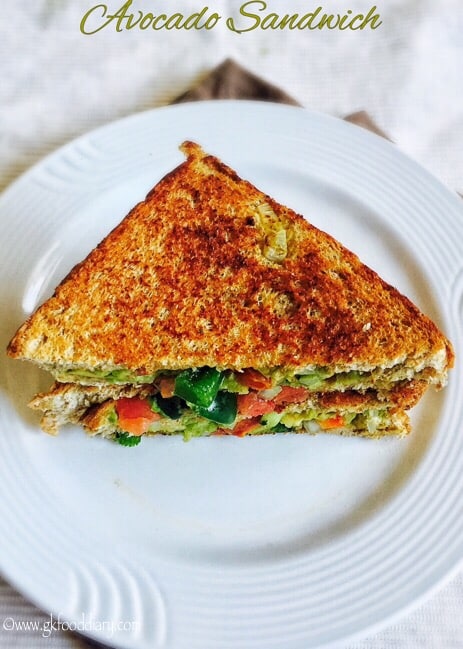 Whole Wheat Bread - 6 slices
Avocado - 1 medium sized
Onions - 1 small sized
Tomatoes  - 1 small
Capsicum - ¼ cup chopped finely
Red chili powder - ½ tsp
Pepper powder - a pinch
Corainder leaves - a handful
Lemon juice - 2 tbsp
Salt - as needed
Butter/ghee - to toast
Keep all the ingredients ready. Wash the avocados in running water thoroughly. Cut the avocado vertically into two pieces.
Remove the big seed in the centre part and just sccop out the inner part using a spoon. Collect them in a bowl. Discard the outer layers and seed. Mash the avocados well.
Mix all the ingredients in a vessel except bread slices and ghee/butter. Mix well without any lumps.
Take a bread slice and spread avocado mix on one side. Close seal it with another side. Apply butter or ghee on the other side. Repeat the same for remaining bread slices. Heat a pan or dosa tawa. Transfer the bread to the pan/tawa carefully. Cook it until brown on one side for 3 to 5 minutes and flip it carefully. Cook for 2 more minutes or until it's cooked completely & remove from tawa once done. Repeat the same process for remaining bread slices.
Recipe by
GKFoodDiary - Homemade Indian Baby Food Recipes
at https://gkfooddiary.com/avocado-sandwich-recipe-for-toddlers-and-kids/