Ragi Kozhukattai Recipe for Toddlers and Kids | Steamed Finger milletDumplings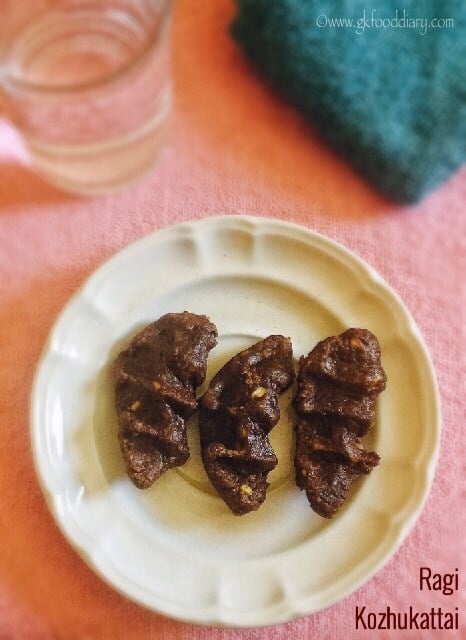 Ragi Flour - 1 cup
Moong Dal - 3 tbsp
Powdered Jaggery - ½ cup + 2 tbsp
Salt - a pinch
Coconut grated - 2 to 3 tbsp
Water - as required
Cardamom powder - a pinch
Ghee - 2 tsp
Keep all the ingredients ready. Boil moong dal in a saucepan until its half cooked.
Heat a pan and dry roast the ragi flour  for 5 minutes in low flame or until its hot to touch. Don't burn it while roasting. Set aside.
Heat water in a pan until rollling boil and switch off the flame once done. Take the dry roasted ragi flour, boiled moong dal, jaggery powder, grated coconut, cardamom and salt in a wide plate and sprinkle the warm water on it and wet the entire flour.
Keep mixing with water until you could able to form a smooth dough. Then divide the dough into equal sized balls.
Keep each ball into your hands and press it to bring an oblong shaped dumplings. Grease each dumpling with little ghee.
Transfer the dumplings to a muslin cloth and spread over it. Place it on a Idli steamer plate and steam it for 15 minutes with a cup of water. Switch off the flame once done. The Kozhukattais will turn shiny once its cooked.
Serving size:
20 Dumplings
Recipe by
GKFoodDiary - Homemade Indian Baby Food Recipes
at https://gkfooddiary.com/ragi-kozhukattai-recipe-for-toddlers-and-kids/