Apple Pancakes Recipe for Babies, Toddlers and Kids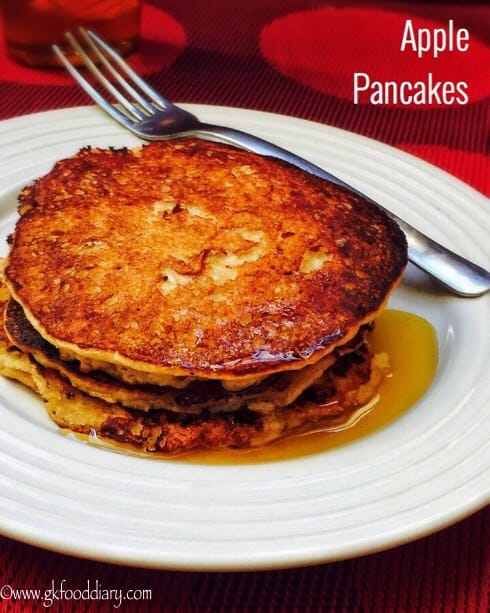 Apple - 1 medium sized
Whole wheat flour - ½ cup
Salt - ⅛ tsp
Baking Soda/ Fruit Salt - ½ tsp
Warm milk/ Water - ½ cup
Palm Sugar/ Brown sugar/jaggery - 2 tsp (optional)
Cardamom powder - ¼ tsp
Cinnamon powder - ¼ tsp
Butter/Ghee - 2 tsp
Measure and keep everything ready. Wash, peel and grate the apples. Set aside. Sieve whole wheat flour, baking powder, salt, cardamom powder and cinnamon powder using a siever.
Take warm milk/ water, melted butter and palm sugar/brown sugar/powdered jaggery (if using) in a mixing bowl. Mix everything using a hand whisk.
Now transfer this wet ingredients to the whole wheat flour mix. Add in grated apples. Mix everything well and add some milk/water if the batter is too thick.
Heat a tawa or iron skillet, add a ladle of apple pancake batter to it and spread it to form a circle. Don't spread too much. It should be thick like pancakes. Sprinkle butter/ghee. Cook in low medium flame. Cook until brown on one side for three minutes and flip it carefully. Repeat the same for remaining apple   pancake batter.
Recipe by
GKFoodDiary - Homemade Indian Baby Food Recipes
at https://gkfooddiary.com/apple-pancakes-recipe-babies-toddlers-kids/