Carrot Oats Porridge Recipe for Babies and Toddlers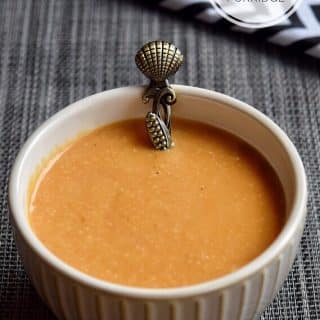 Homemade Oats Cereal* - ¼ cup
Water - 1 Cup
Carrot - 1 medium sized or ½ cup sliced
Dates - 2
Nuts Powder - 1 tsp (optional)
Breastmilk/Formula Milk - ¼ cup (optional)
* If using whole oats powder, and use
Soak two dates in warm water. Wash carrot in running water well. Peel the skin off from the carrot with a peeler. Then slice them into pieces. Transfer the carrot slices into a pressure cooker and add ½ cup of water
Pressure cook the carrots in medium flame for one whistle. Open the cooker once pressure released.
Transfer the cooked carrots along with soaked dates to a blender.
Grind it into a smooth paste. Set aside.
Take the oats in a pan and 1 cup of water to it. (If using the whole oats, Grind it in a mixer to a slightly coarse powder and use)
Mix well with a whisk. Make sure that no lumps are formed. Cook the oats in low, medium flame for 3 to 5 minutes or until it is thoroughly cooked in sauce consistency. Keep stirring while cooking.
Once the oats are thoroughly cooked, add ground carrot puree and nuts powder. Mix well.
Switch off the flame once done. For babies below one year, switch off the porridge at this stage & add breastmilk or formula when the porridge is warm.
For babies above one year, use cows milk & boil it further for 2-3 minutes and remove from flame.