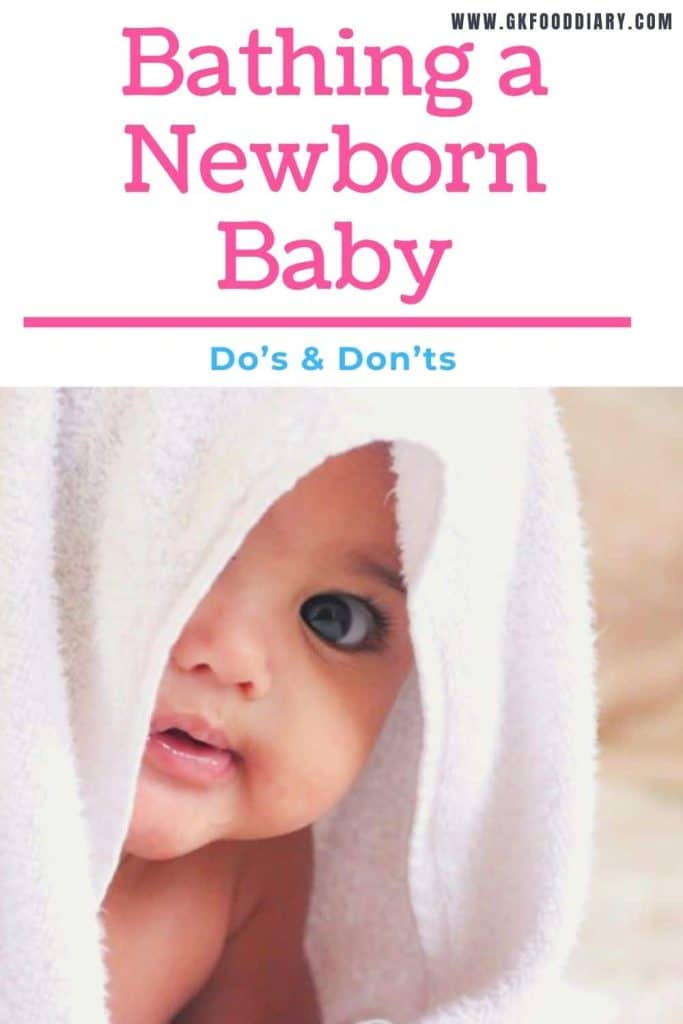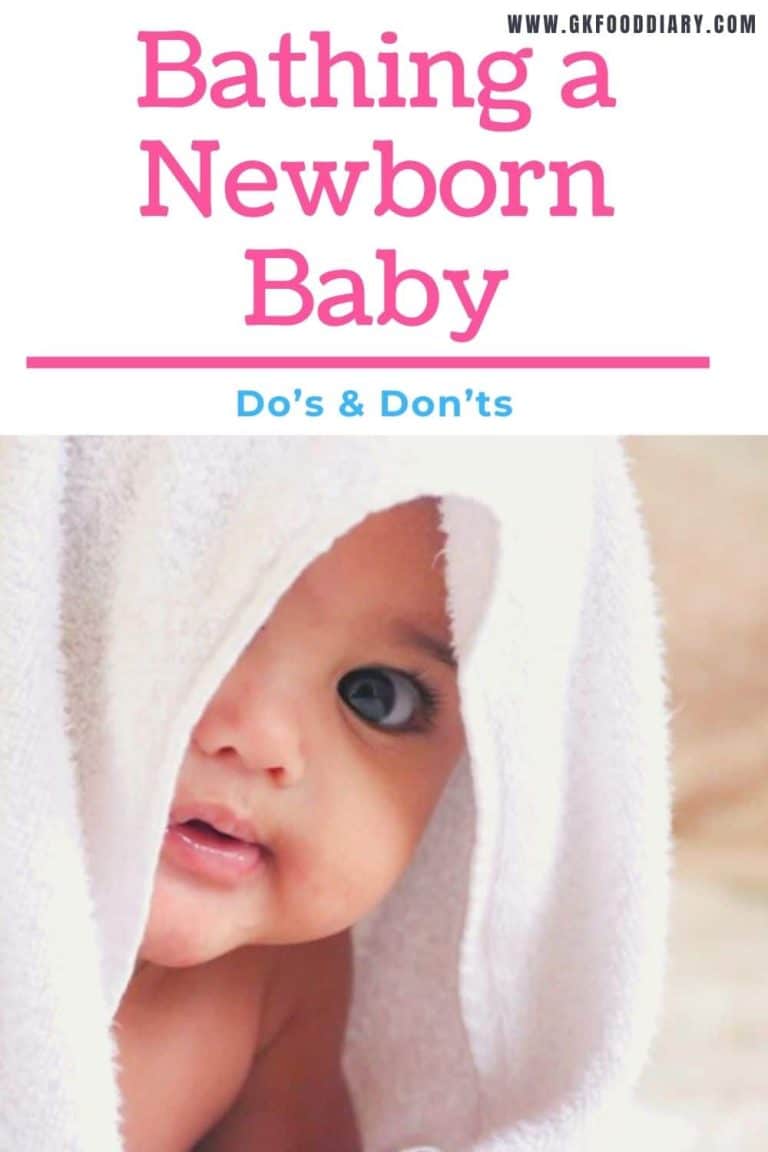 Bathing a Newborn Baby - Do's & Don'ts - Many parents worry about giving their newborns their very first bath. Obviously, baths pose a hazard for the safety of your baby, so you will need to handle the entire procedure with great care, and gentleness.
However, it doesn't help anybody if you're terrified by this rudimentary procedure, which is why, in this article, we'll be guiding you through your newborn baby's first baths. We've compiled a list of do's and don'ts, useful tips and tricks, and other things you'll need to know, to properly bathe your baby.
Ready? Let's get to it!
First things first, when should you wash your baby for the first time?
As we all know,  babies are born covered in amniotic fluid and vernix, which is a waxy substance designed to protect your newborn from external bacteria. While it's tempting to want to remove this "dirt" from your child as soon as possible, some experts actually recommend leaving the vernix one for the first few hours, to ensure your child's extra protection.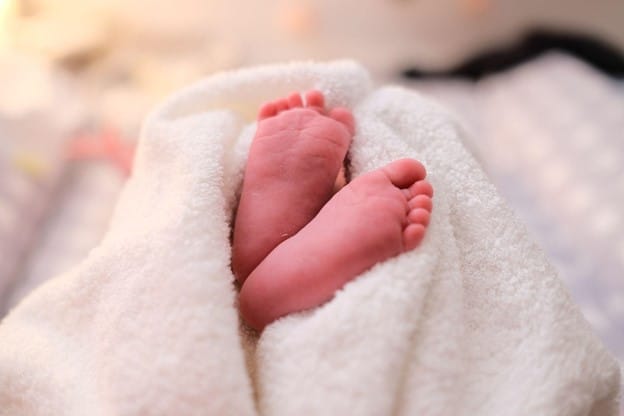 In any case, if experiencing a hospital delivery, the doctors and nurses will cleanse your child, and remove the amniotic fluid, so you need not worry about that.
Ideally, delay your baby's first bath by at least a few days after birth. In the first few days of your newborn's life, skin-to-skin contact with the mother should be your top priority. In some cases, breaking off contact too early, in order to administer a bath, can cause difficulty in breastfeeding. So wait at least 24 hours after birth to wash your child for the first time.
How often should you wash your baby?
While it might be tempting to wash your baby every day, the truth is, you don't really need to. In fact, it's enough to simply wash your baby two or three times a week. In between baths, it's more efficient to cleanse your baby using a method known as "topping and tailing".
Topping and Tailing - Do's and Don'ts
As the name suggests, topping and tailing is the process by which you only clean the top and "tail" of your baby, namely the head, feet, and nappy area. These are the areas most likely to accumulate dirt, spilled milk, or other similar products, so it's enough to regularly clean those, especially during the first few weeks of your baby's life.
In order to successfully master topping and tailing, you will need:
A clean towel;
Cotton wool;
One or two bowls of warm water;
Clean nappy and change clothes.
Don't: Don't put any products like washing liquid in your clean water. Just warm water is enough to keep your baby clean from day to day.
Do: Top and tail your newborn baby on a changing mat, always. Ideally, you can place the changing mat on the floor, to avoid the risk of your baby rolling over.
How to top and tail your baby: Step-by-Step Guide
So your baby is naked (except for their vest and nappy), and wrapped up in a clean towel, yes? Good.
Step 1. Take a bit of cotton wool and dip it in the clean, warm water. Make sure to squeeze out the excess water, as you want the cotton wool to be damp, but not soaking.
Step 2. Begin gently wiping around your child's eye, beginning from the nose, and out. Use a new piece of cotton when changing eyes, so as to prevent the spread of infections.
Step 3. Next, clean your baby's ears, using another piece of wet cotton wool.
Do: Wipe the outer area of your baby's ear, as well as behind it.
Don't: Never ever put cotton wool or buds inside your baby's ears or nostrils!
Step 4. Use more cotton wool to wipe the rest of your baby's face and neck, lingering on the skin folds on your child's neck. This is a common spot where spit, milk, and other dirt might accumulate. Wipe your baby's hands, looking for sharp nails (remember to also do this when washing their feet).
Do: File your baby's nails smooth, or clip them using round-ended baby scissors.
Don't: Ignore sharp edges on a baby's nails, as they might use these to unwittingly scratch or harm themselves!
Step 5. Remove your baby's nappy, and proceed to wash their genitals with warm water, and cotton wool. Make sure you dry off the area and replace the nappy with a clean one when you're done.
Step 6. Lastly, use the cotton wool to clean your baby's feet, making sure you clean the areas between each toe.
And voila! Once you're done topping and tailing your baby, dress them as usual.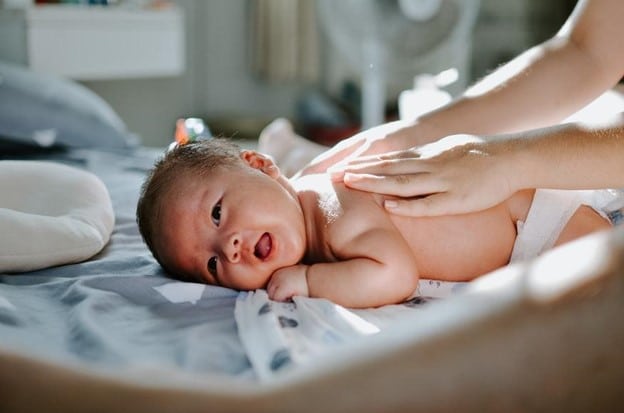 How to Bathe a Baby With an Umbilical Cord
Topping and tailing can also be a great way to keep your baby clean during the first 1-2 weeks of life until the umbilical cord falls off. It's not generally recommended to submerge your baby in water until that point.
Until the umbilical cord stump dries and falls off, it's best if you stick to topping and tailing, or alternatively giving your newborn sponge baths.
Don't: Make sure you don't get any water in your baby's eyes and mouth while cleansing her face with the wet sponge, as this might irritate her.
You will need:
Bowl of warm water (product-free);
Clean towels;
Clean clothes;
A damp washcloth (again, soaked in soap-free water).
Remove your newborn's clothes, and wrap them in a towel, unwrapping one part at a time (the part that you wish to wash). Use the damp sponge to gently clean the baby's head, and face.
Don't: Don't use any soap or washing liquid when cleaning your baby's head and face, so as not to irritate their eyes.
Do: Add a drop or two of gentle baby liquid soap in the warm water afterward, and stir gently. Use the slightly soaped water to sponge clean the rest of your child's body.
Once you're done, dry your baby's skin using a clean towel, and put on a new diaper, and set of clothes.
Bathing Your Newborn
Once your baby is a few weeks old, and the umbilical cord stump has fallen off, you can begin giving them regular baths.
Don't: If your child was circumcised, your doctor may advise you to avoid submersion baths for a little while longer, while the wound heals.
But generally, at about 2-3 weeks, you can begin giving your baby submersion baths.
How do you bathe your newborn?
Do: Keep all necessary supplies, such as towels, sponges, or washing liquid on hand, so that you can keep one hand on your baby at all times.
For submersion baths, you can either use an infant tub, which should be slightly sloped, in the interest of safety or the sink itself, provided that it's clean, of course. Some parents even use a small plastic tub. If bathing your child in the sink, however, do keep an eye on potential hazards, such as faucets. Fill your baby tub up with water to about 8-10 cm in height (no more).
Do: Check the water temperature against your wrist, before submerging your baby. You will want the water to be warm, but not hot. Alternatively, you can dip your elbow into the water to check.
Begin by undressing your baby, and placing her in the water as soon as the clothes are off, to avoid her getting cold.
Don't: Take your hand off your baby, not even for a single second. The majority of infant bathtub deaths involve a child under one year of age, so keep your hands and eyes on your baby at all times.
Use a soft, damp washcloth (again, soap-free) to gently pat your baby's face clean. Make sure you don't tug or scrub at her skin since even gentle movements can prove too harsh for a small baby.
Don't: Exaggerate the use of soap. Unless you really need to scrub off filth, it's not recommended to use too much soap to cleanse your child, as it can lead to dry skin and other unpleasant conditions.
Do: After using a gentle shampoo to clean off your baby's hair, cup one palm over her forehead, to avoid soapy water running into her eyes or mouth.
While bathing can be tricky and will require a lot of care on your part, many babies do enjoy bath time. So play around, splash about a little, and basically show your child there's nothing to be worried about.
General Takeaways
You can begin bathing your child as soon as a few hours after birth, though you generally should at least a day. Use sponge baths, or the topping and tailing method, to clean your baby within the first couple of weeks, then move on to regular baths.
Remember to use pH neutral, gentle washing liquid designed especially for infants, so as not to cause irritation or excessive dryness. And most importantly, don't forget to keep your eyes and hands on your baby at all times, during a submersion bath! Happy bathing!